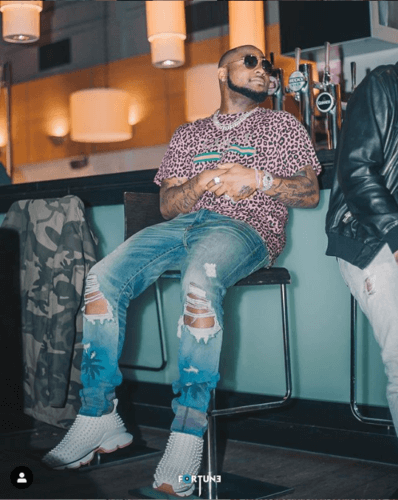 Angry Nigerians have taken to Twitter to slam Daviudo after he denied leading the #EndSARS protest held on Sunday, the 11th of October, 2020.
Davido who was present at the protest held in Abuja said this during his meeting with the Inspector-General of Police, Mohammed Adamu earlier today. The singer who also helped secure the release of some protesters that had been arrested by the police later explained that he was in Abuja because of his fans and he came to the protest venue to calm things down.
The singer had insisted that he wanted an open-door meeting but the IGP said, "How can you come here for a closed-door meeting, when you were protesting yesterday and you identified with the protesters? Davido responded, "I did not protest, I was not there to protest. I was there to calm things down because the protesters are my fans."
However, Adamu stated that Davido had taken an action that projected him as playing a true voice for young people, adding that the agenda of the meeting needed to be streamlined. It was the denial that drew online outrage against the "FEM" singer on Twitter.
See the reactions below
If you have seen that Davido video,
Please just to be clear:
He is NOT speaking for us.
He is NOT speaking for protesters.
He is NOT speaking for #EndSARS

That closed meeting he went for us for himself ONLY.

SARS is NOT a private matter.#EndSARS has NO leaders.

Thank you ??

— #OurFavEndSARSDoc ????? (@DrOlufunmilayo) October 12, 2020
Davido said if the meeting will be private, he'll cancel it and fly back to Lagos. Why is the meeting now behind closed doors?? Where is Aisha Yesufu? Where is Segalink? Where is Falz??

— Duke of Ibadan ?? (@AsiwajuLerry) October 12, 2020
Davido will set up a panel to do what now? And he carried who to talk to IGP?
Are we really a joke?

— RIP Jimoh Isiaq (@DamiElebe) October 12, 2020
Davido why na? After saying if the meeting has to be a closed door you'll cancel it nd fly back to Lagos but see you sweating like a dishonest person while negotiating. Niggah denied protesters 3X & even added that he was there to calm his fans down. #SARSMUSTEND #SURULEREPROTEST

— Z A N N A H? (@__usyy) October 12, 2020
Davido shouldn't have honoured closed door meeting with the IG and Frank Mba, now he has been intimidated, same thing they did to 2 Face Idibia back then, I'm sha glad we don't have any leader, even if they intimidate Davido #SARSMUSTEND, as they can't intimidate all of us.

— Eniola (@UNCLE_AJALA) October 12, 2020
I see nothing wrong with being diplomatic. Frank Mba tried putting words in Davido's mouth (label him the leader of the protest so they could either crucify him or negotiate with him). But these protests have no leader. Now you still believe the IGP truly means well? #SARSMUSTEND

— NEFERTITI (@firstladyship) October 12, 2020
Davido is not Fela, he never claimed to be. Everything he has done and is doing is for his people, being sensible is not the same thing as chickening out. People are dying out there for real, you guys are focused on the wrong thing #SARSMUSTEND

— P L U T O (@BlaccMAJEK) October 12, 2020
Nairamarley was brain washed. Davido is another target pic.twitter.com/9uc2o8P8Ev

— Chiji (@Chiji41356908) October 12, 2020
Nairamarley was brain washed. Davido is another target pic.twitter.com/9uc2o8P8Ev

— Chiji (@Chiji41356908) October 12, 2020
This is a big opportunity for our youths to revitalise & revamp the already damaged bad government, By taking the Bull by the horn just like they've done on the #SARSMUSTEND protest. All hope is not lost,a big thank you to Davido, chicken Republic & everyone across the globe. ??

— QUEEN MOTHER ?? (@rutie_xx) October 12, 2020
Kudos to Davido! OBO!! This can only be due to the love he has for Nigerians. He is not and can never be among the oppressed. A celebrity, billionaire, son of a billionaire, American citizen, entrepreneur who has helped so many people. Maximum Respect?? pic.twitter.com/9JDrbaASZu

— Anthony Eri?? (@AnthonyC_Eri) October 12, 2020
I warned Davido.
NO private meetings with Police.
No closed door meetings with Police.

Those people do human psychology.
They know how to threaten you and bully you once you are on their turf.

Let them come to the protest grounds.
That way, they are the ones to fidget. Not you. https://t.co/2LKNhFb7B5

— #OurFavEndSARSDoc ????? (@DrOlufunmilayo) October 12, 2020
The post Mixed Reactions As Davido Denies Leading #EndSARS Protest In Abuja appeared first on tooXclusive.