Nigerian rapper, CDQ has reacted after his encounter with the operatives of the National Drug Law Enforcement Agency (NDLEA).
The Indigenous Rapper took to his official Instagram account to share details of his encounter with the operatives who stormed his house in search of drugs. Though he didn't say much in his post, he noted that some individuals are trying to set him up again.
See his post below
"No sleep for the wicked ? iyalaya yin o ni sun for dis Lagos… They tryna set me up today but Olohun wa ?"
View this post on Instagram
Throwing light on CDQ's experience, an upcoming artist identified as Wilmerafica claimed to have witnessed what transpired between CDQ and the NDLEA operatives. According to Wilmerafrica, The operatives stormed CDQ's house in search of drugs after receiving an anonymous tip.
"I witnessed it live. They stormed his house claiming the right to search his place saying they are from NDLEA Lagos branch and that they were there to search for drugs based on the information they got."
He added that the rapper was assaulted by one of the operatives after he asked for a search warrant and identification.
"All he did was ask for warrant and ID cards but they were reluctant and there was this stubborn one among them who was talking aggressively to him and trying to force himself into the house but CDQ refused the man got angry and pushed him bridging his privacy next thing we could hear was sound of slaps like really hot slaps and the same man was shouting at him to turn his phone off.. Omo e choke."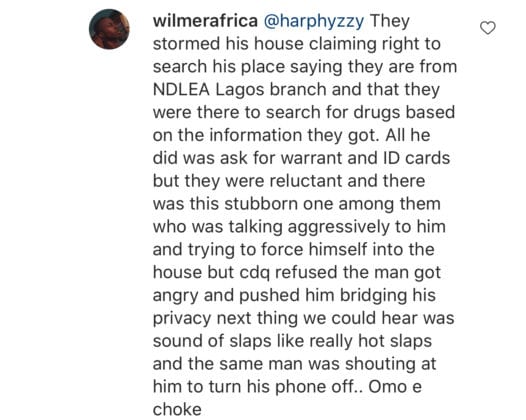 The post CDQ Reacts After He Was Assaulted By NDLEA Operatives appeared first on tooXclusive.